The
mobile trailer mounted pump
is developed as a new type of sudden, urgency, operational diversity, social impact and other characteristics that can be used for long-term storage, real maintenance, harsh operating conditions, and special operational requirements. , a new generation of mobile trailer mounted pump. It's powerful. The characteristics are much more.
So, what are the main characteristics of mobile trailer mounted pumps?
First, the mobile trailer mounted pump has excellent safety performance, safe handling, the unit radiator and rotating parts are equipped with a protective cover to avoid damage caused by direct contact.
The control panel is equipped with a door lock and an emergency stop switch. The emergency stop device is installed outside the cabinet for emergency use.
Second, the mobile trailer mounted pump low carbon environmental protection
1. Fully enclosed noise reduction
The surrounding parts of the unit inspection door are sealed with automotive special sealant, and the noise reduction design concept is fully integrated into the air inlet and outlet to further reduce noise.
2. Quality sound-absorbing materials and design
The inner wall of the unit adopts a new special 50mm flame-retardant silencer cotton, and the door is made of sealed plastic. It can absorb and block the noise and heat emitted by the unit during operation.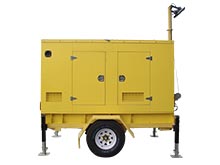 Third, the mobile trailer mounted pump is easy to operate
1. Easy to operate control system
The control system integrates technologies such as digitization, with microprocessor as the core, multiple languages to choose, automatic control, and economical operation.
2. Convenient refueling and watering device.
1) Built-in bottom tank;
2) Externally configured fuel filler;
3) The oil discharge port of the base.
4) Water adding port is set above the water tank
Fourth, the
mobile trailer mounted pump
power is strong and stable
1. It is equipped with high-quality engine and high-performance pump body, which is powerful. High torque, easy to maintain, easy to start, and fast drain.
2. The special ring gear coupling between the engine and the pump body of the mobile trailer mounted pump can effectively reduce the vibration and make the operation more stable.
3. All the movable devices are effectively fixed to further improve the shock absorption effect.