QW mobile submersible sewage pump is successfully developed on the basis of introducing foreign advanced technology, with the joint efforts of our factory's scientific research personnel, and at the same time widely soliciting opinions from domestic water pump experts, and has been successfully developed after many improvements. After testing various performances The indicators have reached the advanced level of similar foreign products. Submersible sewage pump flow rate: 7∽2400m3/h, head: 7∽60m, etc. The submersible sewage pump is designed and manufactured into WL, YW, GW series products with the same performance parameters according to the medium used and different installation methods.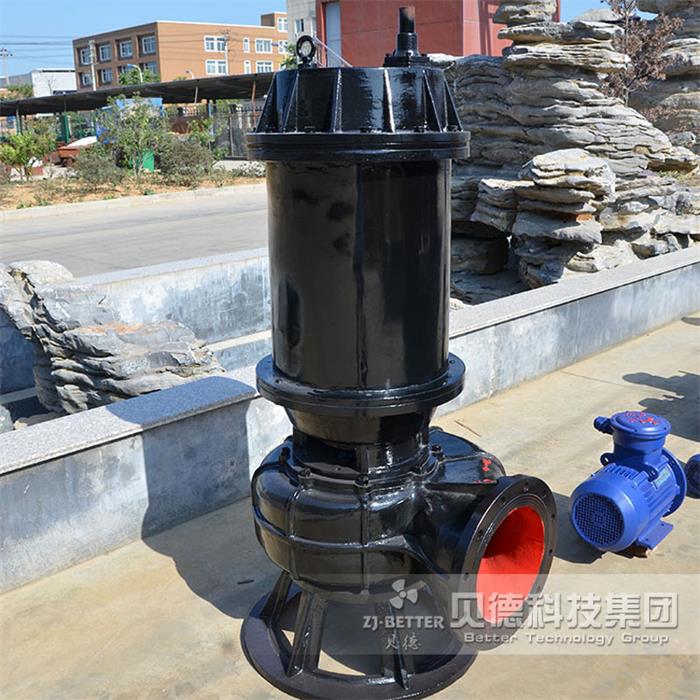 【Features】
1. The unique single-piece or double-piece wheel structure greatly improves the passing capacity of the dirt, and can effectively pass through the fibrous material twice the diameter of the pump and the solid particles whose diameter is about 50% of the pump diameter.
2. The mechanical seal adopts a new type of hard and corrosion-resistant titanium tungsten material, which can make the pump run safely and continuously for more than 8000 hours.
3. The overall structure is compact, the volume is small, the noise is low, the energy-saving effect is remarkable, and the maintenance is convenient. There is no need to build a pump room, and it can work when it is submerged, which greatly reduces the project cost.
4. The sealing oil chamber is equipped with a high-precision interference leakage detection sensor, and a thermal sensor is embedded in the stator winding to automatically protect the pump motor.
5. According to the needs of users, it can be equipped with a fully automatic control cabinet, which can automatically protect the pump from water leakage, electric leakage, overload and over temperature, etc., which improves the safety and reliability of the product.
6. The float switch can automatically control the start and stop of the pump according to the change of the required liquid level, and it is very convenient to use without special supervision.
7. WQ series submersible sewage pumps can be equipped with a double guide rail automatic coupling installation system according to user needs, which brings greater convenience for installation and maintenance, and people do not have to enter the sewage pit for this.
8. It can be used in the full head without overloading the motor.
9. There are two different installation methods for submersible sewage pumps, fixed automatic coupling installation system and mobile free installation system.
【Conditions of Working】
1. The temperature of the medium does not exceed 60°C, the weight of the medium is 11.3×103kg/m3, and the pH value is within the range of 59.
2. For pumps without internal self-flow circulation cooling system, the motor part shall not exceed 1/2 of the liquid surface.
3. The main parts of the pump are made of cast iron, so they cannot be used to pump highly corrosive liquids.