The
mobile pump
is a mobile integrated equipment provided by Better Technology Co., Ltd. The equipment is driven directly by the diesel engine and does not require additional motors and power distribution equipment. Intelligent mechatronics equipment is a high-tech product integrating microelectronics technology, digital technology, computer technology, information processing technology, industrial automation control technology, communication technology and fluid machinery (engine, water pump) technology.
The engine of the mobile pump is selected from diesel engines of well-known brands at home and abroad as a driving source. Diesel engines typically use high efficiency, high performance, high reliability, high load capacity and low pollution emissions for automotive, engineering or water pumps. The mobile pumping station is a new generation of high quality self-priming pumps with high performance and low maintenance. The shaft seal of the pump is mechanically sealed for extremely high wear and sealing properties. The pump maintains a stable working condition and ideal working efficiency in a variety of environments. Mobile pump station control system intelligent control system, diesel engine water pump intelligent controller. The device also has the characteristics of convenient maintenance, high power, good economy, high reliability and long service life.
Mobile pump function advantage
1: Self-priming ability, self-priming height can be up to 7.0 meters, no drainage irrigation pump. Once the mobile pumping station arrives at the site, it can be put into use as soon as the outlet pipe is connected.
2: No blockage, strong impurity transfer ability. Ordinary plastic bags, sand, woven bags, mud, wool and other debris will not affect the use of pumps.
3: Adopt self-priming double suction pump, with oil chamber, dry running, mobile pump body is durable and long life.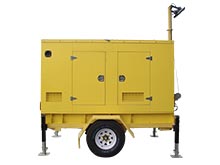 4: Self-priming is still caused by intermittent operation.
5: Speed control flow, control ratio up to 10:1
6: Pressure does not affect flow
7: Designed for municipal rescue and rescue:
1. The mobile pump uses a quick connect connector to facilitate the assembly of the inlet and outlet pipes.
2. The vehicle is compact in design and suitable for use in tight spaces.
3. Use a tarpaulin or hard-steel soundproof cover that is easy to remove.
4. Diesel drive, no external power supply required. The mobile pumping station can also be driven by an electric motor.
5. The overflow part of the mobile pump is made of 316L stainless steel bushing, which is laser-quenched to resist corrosion and wear and can transport edible water.