End-suction centrifugal pump is a non-self-priming, single-pole single-suction, pump body and base fixed, its maximum working flow can reach 1200 cubic meters per hour, so this series of pumps fully meet the needs of fire water supply, can improve its extinguishing speed. The mechanical seal of this series adopts the standard wear-resistant mechanical seal, and the bearing adopts the bearing frame, which can locate the bearing, avoid the serial movement of the bearing, and at the same time improve the rigidity of the rotor parts, so this series of pumps use The lifespan will also be longer. At the same time, this series of water pumps also have the functions of stable operation, convenient maintenance and low operating noise, so this series of water pumps is the first of the fire system equipment.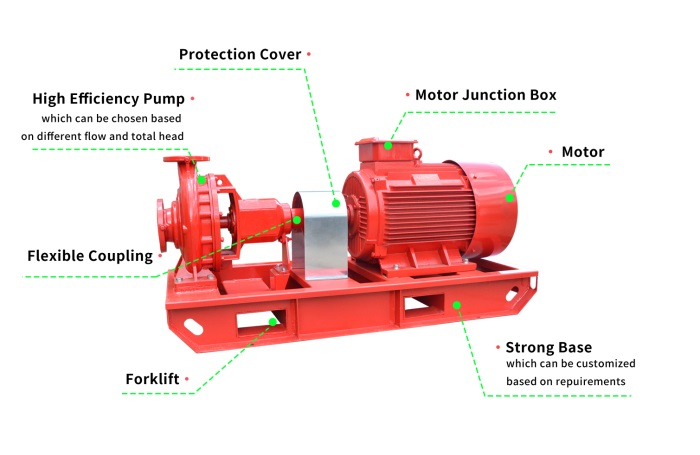 The end suction pump works by rotating the impeller to make the water centrifugally move. Before starting the centrifugal pump, it is necessary to fill the pump casing and the suction pipe with water, and then start the motor to make the pump shaft drive the impeller and the water to rotate at a high speed. It flows into the pressurized water pipeline of the single-suction pump. According to the material type and the different configurations of the sealing system and cooling system, the single-stage single-suction pump has a wide range of applications. The end suction pump can pump clear water media, and can be used in air conditioning, heating, pressurization, building water supply, fire protection buildings, etc. It can pump chemical media similar to water and other corrosive liquid media, and can be used in chemical, horizontal, pharmaceutical, metallurgy, petroleum and other fields.


Better Technology Co., Ltd. is a professional
fire pump manufacture
that can design, manufacture, shipping and sell independently. We have got the UL listed approved, CE, ISO9001 quality management system, ISO14001 environmental management system and ISO18001 occupational Health and safety management system certification. Best products and services is our final aim. If you are interested, welcome to send inquiry, or to be our area fire pump dealers. We will work and develop together.