S type single-stage double-suction centrifugal pumps are mainly suitable for liquid delivery in waterworks, air conditioning circulating water, building water supply, irrigation, drainage pumping stations, power stations, industrial water supply systems, fire protection systems, and shipbuilding industries.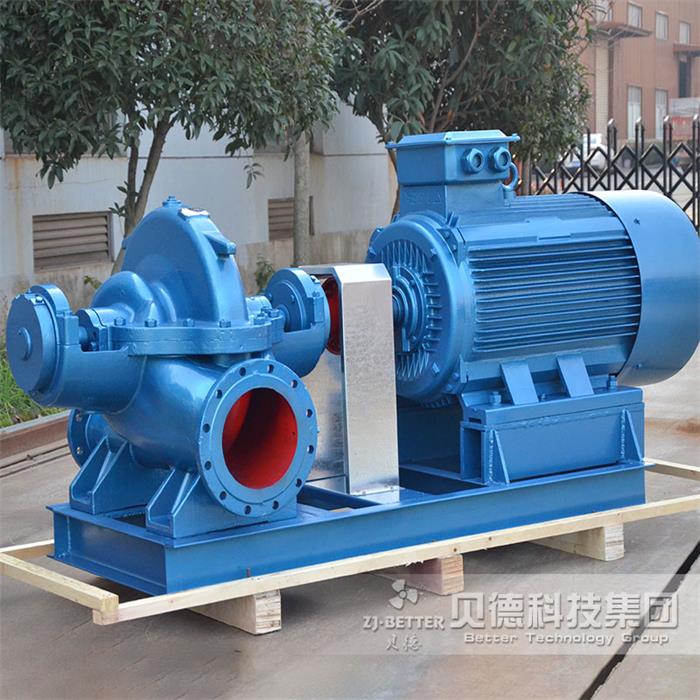 Structural features
1. Compact structure, beautiful appearance, good stability and easy installation.
2. The double-suction impeller with stable operation and optimal design reduces the axial force to a minimum, and has a blade shape with excellent hydraulic performance. After precision casting, the inner surface of the pump casing and the surface of the impeller are extremely bright and have significant anti-cavitation performance and high efficiency.
3. Bearings SKF and NSK bearings are used to ensure smooth operation, low noise and long service life.
4. Shaft seal Choose BURGMANN mechanical seal or stuffing seal. Can guarantee 8000 hours of operation without leakage.
5. Installation form There is no need to adjust during assembly, and it can be adjusted according to the site use conditions. Standalone or horizontal installation.
6. Adding a self-priming device can realize automatic water suction, that is, no bottom valve, vacuum pump, or backfilling is required, and the pump can be started.


Scope of application
The parts of the pump are pressed by stainless steel plates and welded by laser, and there are many grades of stainless steel for selection, so the double suction centrifugal pump has a wide range of uses, mainly suitable for transporting various clean water and light corrosive liquids, and can be used for residential buildings Water supply and pressurization Industrial boiler water supply and air conditioning system circulation experience Water treatment and reverse osmosis system Food industry, pharmaceutical industry water