The
fire pump
, as one of the key equipments for fire safety equipment, cannot start. It is the primary fault in the entire fire safety system. So, what is the reason caused the failure of the fire pump start? What are the key factors?
First: Power supply.
It often has problems with the wiring, the connector is not secure, if the switch is tightly connected, and check the fuse.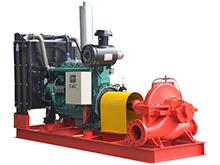 Second: Mechanical failure of the pump
Do not switch when starting pump: fill too tightly or between the impeller and pump body and theplug was stuck debris or shaft, bearings, minus leakage ring rust to live, or severe bending shaft. Ruled out: relax fill, dredge flume; disassemble pump body to remove debris, rust; calibration shaft removed or replaced a new shaft.
Better Technology Co., Ltd., focusing on the research and development and fire pump design for 16 years, include the development of diesel engine fire pump, the production of electric fire pump, the installation of fire control cabinet; The long-term study and guidance with high-end technical personnel at home and abroad, improves the technology of traditional fire pump. Better Technology Co., Ltd., always welcome you!