The
diesel engine fire pump
is a key part of providing fire water. It is an important part directly related to property safety. To manage the pump house and clarify its responsibilities, the following system is formulated:
1. All mechanical and electrical equipment of
pump room
, underground water pool and
fire protection system
are monitored by equipment and firefighters, and regular inspection, maintenance, cleaning and cleaning are carried out, and records are made. Problems that cannot be solved are reported to the rectification in a timely manner.
2.The mechanical and electrical equipment in the pump room is the responsibility of the equipment and firefighters. Other personnel have to operate, and unrelated personnel are not allowed to enter the pump room.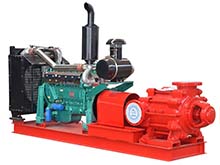 3. All equipment in the pump room under normal operation, the switch should be set in the automatic position, all operation signs are simple and clear.
4. The
diesel engine pump for fire fighting
and spray pump are inspected every day, and an"automatic and manual" operation check is carried out, and a comprehensive
fire pump maintenance
is carried out every quarter.
5. The power supply of the pump room control loop should be checked monthly to check whether the standby pump can run automatically in the event of a host failure.
6. The sewage pool is often cleaned, and the pumps and pipelines are often maintained.