The
diesel engine fire pump
is suitable for unattended fire water supply system. The product has the characteristics of leading technology, high degree of automation, superior performance, complete functions, reasonable structure, simple installation and high cost performance. The diesel engine fire pump is mainly used for fire hydrant fire extinguishing, automatic sprinkler fire extinguishing and other fire fighting systems in industrial and mining enterprises, engineering construction, high-rise buildings and other fixed fire fighting systems. It can be used to transport clean water without solid particles and medium with chemical properties similar to water. It can also be used for non-electrical supply occasions such as living and production shared water supply systems and buildings, municipal water supply and drainage, terminals, and offshore platforms.
Diesel engine fire pump performance characteristics:
*Low noise: Near-ideal combustion chambers and new mufflers greatly reduce operating noise;
*Low vibration: Strictly balanced configuration ensures smooth operation of each power station;
*Multiple output: Multitype, multispeed power output method provides the maximum possibility for your configuration;
* Extremely fuel-efficient: The sophisticated injection system allows each drop to perform its best;
* Easy to start: Ingenious recoil start makes the start light and fast;
*Small size: high-strength aluminum alloy body design makes the weight of the whole machine much smaller than the same power products;
* More reliable: High-strength crankshaft material ensures a reliable operating life of the machine.
* Powered by a powerful 4-stroke engine;
* Full frame protection ensures that the pump will still have outstanding performance under the most severe conditions;
* Wide application range and easy maintenance;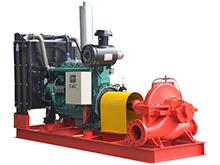 Daily management of diesel engine fire pumps:
To ensure the reliability of the entire control system, perfect daily management is inseparable. Although the diesel engine fire pump has a high degree of automation, but the human damage factor makes it lose its function! The components are damaged or lost, the parameters of the time relay and charger are incorrectly modified, etc., and the user has reflected! Therefore, the pump house key should be managed by a special person, and it is necessary to regularly check whether the equipment parts are lost or damaged by other factors, and whether the parameters of each component are scientific and reasonable.
The biggest difference between a diesel fire pump and an electric water pump is that it has its own independent power supply system - the battery. Therefore, the start and operation of the diesel fire pump can be completely disconnected from the mains.
The diesel engine fire pump is usually used as a backup facility. Therefore, only when the fire signal comes, and the electric water pump fails or the power supply is cut off, it starts automatically. When it has a device with ultra-low pressure start-up pump, the
electric water pump
control cabinet matched with it should also have an ultra-low pressure start pump device, and the lower limit of the pump start should have a certain pressure difference. Of course, I can also design a control system that is more suitable for the customer's needs according to the customer's requirements.