After the 2017 New Year Holiday, Zhejiang
Better Pump Industry
Co.,Ltd. has start to manufacture Cummins diesel engine dual power (diesel engine & electrical power) fire pump system, it is customized for Mexico customer.
This order for fire pump system consists of five main parts:
diesel engine fire pump
, electric fire pump, jockey pump, controller and base frame with valves.
First, it is a diesel engine driven fire pump, model is XBC8/15-100TSWA, the flow is 54m3/h, head is 76m, inlet is 80mm, outlet 100mm, the engine brand is of high quality, use Cummins engine, model 4BAT3.9-80P, electronic fuel injection system J1939 agreement, CAN communication control, speed is 1500rpm, 12h power is 50kw, this model of diesel engine enjoy International Warranty Service.
Second, an electric fire pump, model XBD8/15-100W, flow: 54m3/h, head: 76m, inlet: 80mm, outlet: 100mm, speed is 3500rpm, motor use 220V, 60Hz, 3phase , for 220V, 60Hz, most of pump factory can not meet this requirement, but we have our own motor factory, we can meet the customer for different voltage and different frequency. The material is all SS304 for casing, impeller and shaft.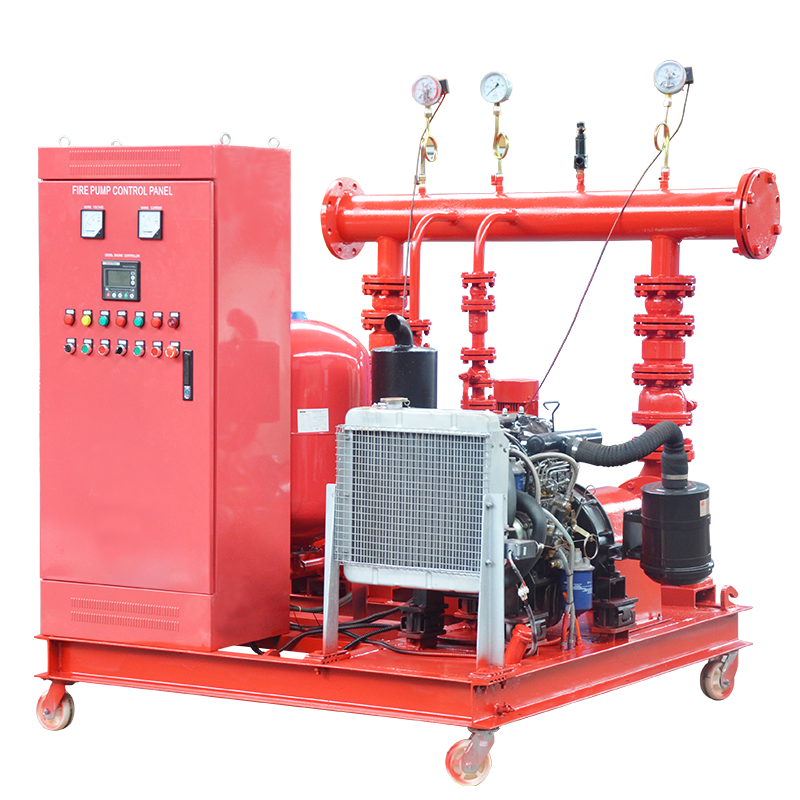 Third, the third pump is jockey pump, model CDL2-100, power is 1.1kw, flow: 2m3/h, head: 86m, inlet and outlet both 25mm, speed: 3500rpm, also SS304 material, motor is 3phase, 220V, 60Hz.
Forth, the control panel, control these three pumps (Cummins diesel engine driven fire pump, electric motor driven fire pump, jockey pump), and also the whole system, the control cabinet use material steel, used for fire fighting. The panel we all put English. According to the customer requirements, this control pane can realize the function to make the electric fire pump and
diesel engine fire pump
mutual alternative, can achieve automatic control and fire control center control. With shock-absorbing base, start battery, fuel tank and the reserve tank to meet UL Listed / FM Approved, meet NFPA20 standard requirements.