Diesel engine fire pump is a more common equipment often used in the fire fighting system, the primary consideration in the purchase is of course the choice of manufacturers, not only because of the higher cost performance, there is another reason is that manufacturers have the characteristics of customization on demand, according to customer demand, choose the function of customizing the fire pump set.
ZJ Better Technology Group Co.,Ltd
is a professional custom fire pump manufacturers, the company produces the Bede brand fire equipment are produced by the company, Bede brand diesel engine fire pump in accordance with GB6245-2006 "fire pump" manufactured and obtained CCCF certificate, its advantage is that the fire can not be powered, can start normally, to protect fire safety. With a wide range of type spectrum, automatic operation, automatic alarm, automatic start and other functions. It is widely used by various fire hydrants, sprinkler pumps, fire pressure boosting and stabilization pumps, by various villas, communities, industrial/civil buildings, oil depots, logistics parks, etc.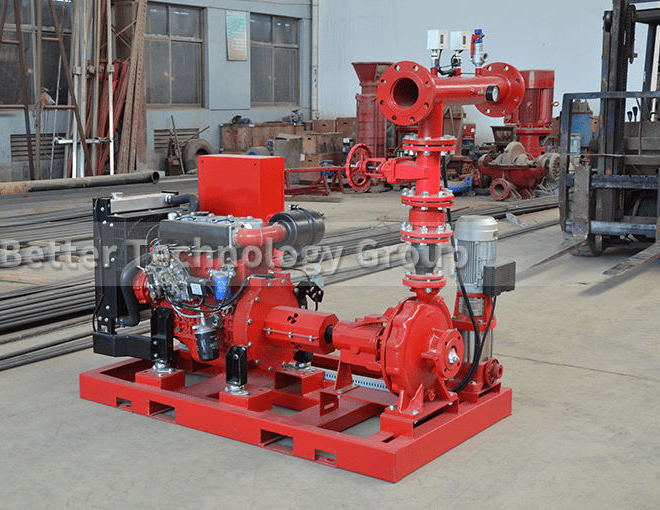 ZJBetter fire pump sets can be selected from single-stage single-suction pumps, single-machine double-suction pumps, multi-stage single-suction pumps, self-priming pumps, long-shaft pumps and other pump sets, while also using series and parallel connection, with a wide range of flow and pressure. It has a variety of starting methods such as signal start, manual start and remote start. When the pump set receives a fire signal or a remote signal, the pump set will run automatically. When the diesel engine has low oil pressure, super high water temperature, over speed, lack of fuel, etc., the equipment will automatically alarm.
In addition to this, the China Bader Technology Group diesel engine fire fighting pump set also has the following customised features.
1, Adjustable rotational speed. The rotational speed of the diesel engine can be adjusted according to the flow and head of the pump.
2, Double battery. Adopting the way of one use and one backup, it is automatically charged to guarantee that the equipment can be started at any time and has higher safety. And the battery is maintenance-free, no need to add supplementary liquid.
3, Pre-heating function. This function ensures that the device can be started even at low temperatures.
4, Periodic inspection. The regular automatic inspection function can be set on demand, without manual operation, to detect problems in time and ensure the safe and effective normal operation of the equipment.
5, Data remote legend. The equipment not only has remote start function, but also can transmit the data through the app.
When ordering diesel fire pumps, if you have special needs in the above aspects, you need to put forward before ordering, and the manufacturer will quote and customize according to the needs. China* Bede Technology Group has accumulated years of experience over the past 16 years, focusing on innovative research and development, and striving to make fire fighting equipment more efficient, convenient and intelligent. The company has a certain scale of production and experience, and is fully committed to customizing your fire pump.