According to the meteorological department, from 5:00 on the 19th to 5:00 on the 20th, the average rainfall in Quzhou City is 115.7 mm, and it is expected to be cloudy with heavy rain in the north and south during the day on the 21st, and cloudy with medium to heavy rain in the south, with local heavy rain.
In order to implement the specific defensive preparations and enhance the emergency handling capacity of urban flooding in Quzhou, the emergency management bureau of Kecheng District of Quzhou City as well as Hangbu Industrial Park issued an emergency support letter to our company. In order to alleviate the impact of waterlogging on people's safe travel, our company sent one 600m³/h high-flow emergency rescue drainage diesel water pump to support the drainage rescue work.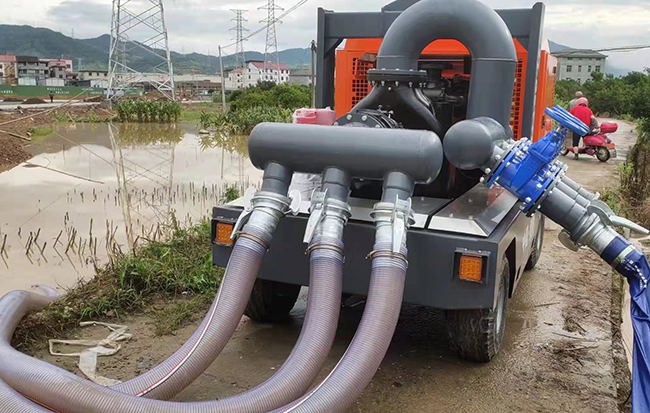 In this flood rescue, Better Technology Co.,Ltd actively cooperated with the government, vigorously carried forward the spirit of one party in trouble, eight parties to support the spirit of corporate social responsibility, rapid response, rapid disposal, to ensure the safety of the public's daily travel, to protect the people's property, and achieved the stage victory of the flood rescue and relief work.
The emergency rescue drainage diesel water pump of Better Technology Co.,Ltd is a set of emergency flood pump designed for emergency relief according to the application characteristics of emergency relief, which can be used for surprise flooding and emergency relief in areas without power supply. The pump truck chassis is equipped with solid tires for easy movement, which is convenient for traction and movement; after the pump truck arrives at the site, it can quickly connect the pipeline and start the diesel engine to drive the coaxial pump to start the drainage operation.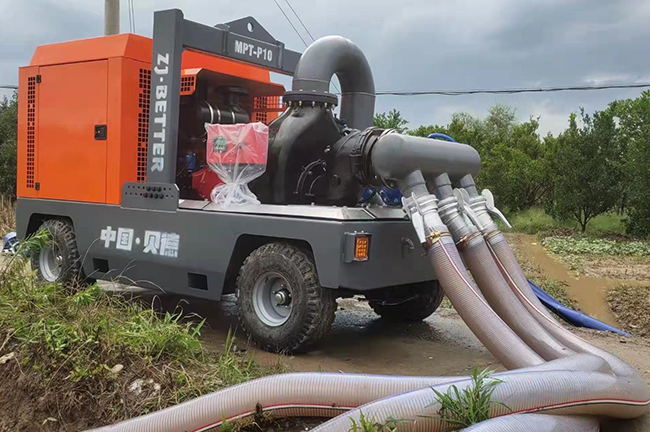 This set of flood control mobile diesel pump applies many innovative technologies, designed and manufactured from the use scenario of emergency disaster relief, so that it can fully meet the long-term inventory, adapt to the harsh working environment, easy to operate and maintain, as well as high flow non-clogging high efficiency water pumping and draining.