Single stage single suction pump
The
XBD-W single-suction single-stage fire pump
consists of two parts: the motor and the pump. The fire pump and the motor are coaxial. The pump structure consists of the pump body, the impeller, the pump cover and the mechanical seal. The
pump inlet and outlet
are on the same horizontal axis, and the caliber specifications are the same, the loading and unloading is very convenient, and the floor space is small. The pump is equipped with a mounting base for easy installation and increased pump stability. The pump seal is mechanically sealed and has a reliable seal and no leakage. The axial force of the pump is balanced by the balance ring of the impeller. The inlet and outlet flanges of the pump are designed according to the pressure of 1.6MPa, and the pipeline is convenient.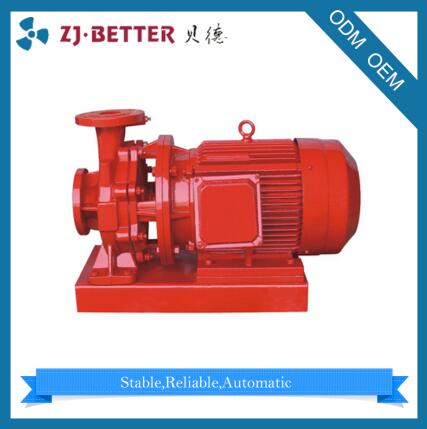 Single stage multi-suction pump
The
XBD-W single-suction multi-stage sectional fire pump
consists of two parts: the motor and the pump. The motor is a Y-type three-phase asynchronous motor. The fire pump and the motor are connected by a coupling. The whole is a rigid connection, and no correction is needed for use. The fire pump consists of a stator part and a rotor part. The stator part of the
fire pump
is composed of the inlet section, the middle section, the guide vane, the outlet section, and the stuffing body. In order to prevent the stator from being worn, the stator is equipped with a sealing ring, a balance sleeve, etc., and can be replaced with spare parts after wear. The rotor part has a shaft, a middle wheel, a balance drum and the like. The lower end of the rotor is a water-lubricated bearing, and the upper part is an angular contact ball bearing. The axial force of the pump is mostly carried by the balance drum, and the remaining small part of the residual shaft is subjected to the angular contact force by the angular contact ball bearing. The paper mat of the water inlet section, the middle section and the water outlet section is sealed by tensioning, and the user can select according to the needs.