The ultimate in tailor made
fire protection pump packages
are the SPP Pumps pump house packages, housing pumps, control systems and pipework. After simply connecting the water and power supplies on site, the unit is immediately operational.
Fire Pump House Packages Key Features
Delivered complete, ready for immediate installation on simple foundations
Ease of site connection saves time and labour costs
Pumping equipment designed to FM/UL or NFPA fire protection rules is installed in standard size containers for delivery without police escort
Built in a clean, controlled factory environment to a high engineering standard
Fully tested and pre-commissioned using advanced computerised testing facilities
Individually engineered to customer requirements
Containerised CAD design saves floorspace
Wall insulation reduces environmental noise
Single responsibility for complete pumphouse eliminating site coordination problems
Planned maintenance contract available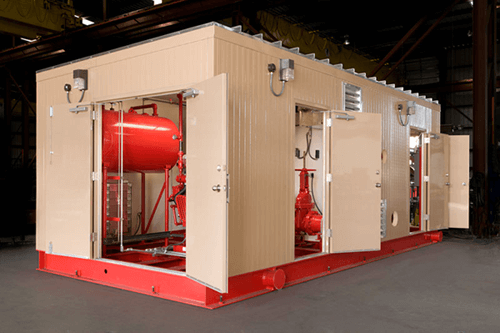 Packaged Fire Pump Systems
Fire Pump Packages Standard Equipment
UL listed/FM approved fire pump
UL listed/FM approved fire pump controller
jockey pump
UL listed jockey pump controller
Pressure sensing lines complete per NFPA 20
UL Listed / FM approved OS&Y gate valves, butterfly valves and check valves
Suction and discharge pressure gauges
Automatic casing air release valve
Casing pressure relief valve (electric packages)
Hose header with valves, caps & chains
Suction and discharge piping per NFPA 20
All electrical components pre-wired at factory
Complete system hydrostatically tested
Diesel Driven Fire Pump Packages also include:
Dual batteries with racks and charger
UL listed fuel tank sized per NFPA 20
Residential grade muffler
Flexible exhaust connector
Engine cooling loop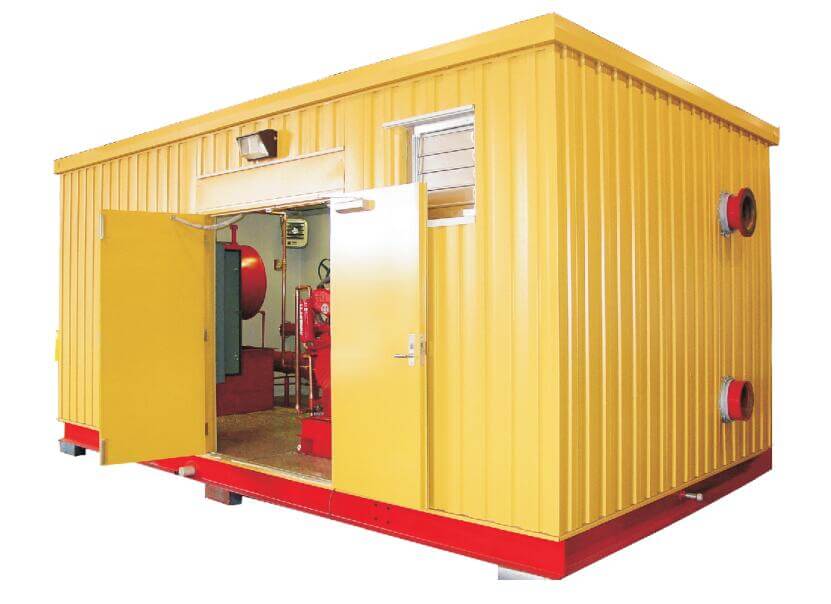 Witnessed and non-witnessed complete system performance test
Test line outlet to connect to remote tank with FM approved flow meter, isolation valves and air release valve
Test loop back to suction with FM approved flow meter, isolation valves and air release valve
Bypass loop with check valve, isolation valves & air release valve
Main system pressure relief valve with enclosed waste cone
Relief valve for jockey pump line
Double wall fuel tank with low fuel and leak detection alarms
Backflow preventor
Critical grade muffler
Packaged system drains piped to edge of skid
Complete fire pump house
Custom and pre-engineered packaged fire pump systems that are factory assembled and tested, leaving only pipe connections, power connections and structural base grouting to be completed on site. All fire pump packages built to NFPA 20 & NEC standards with UL listed/FM approved components.