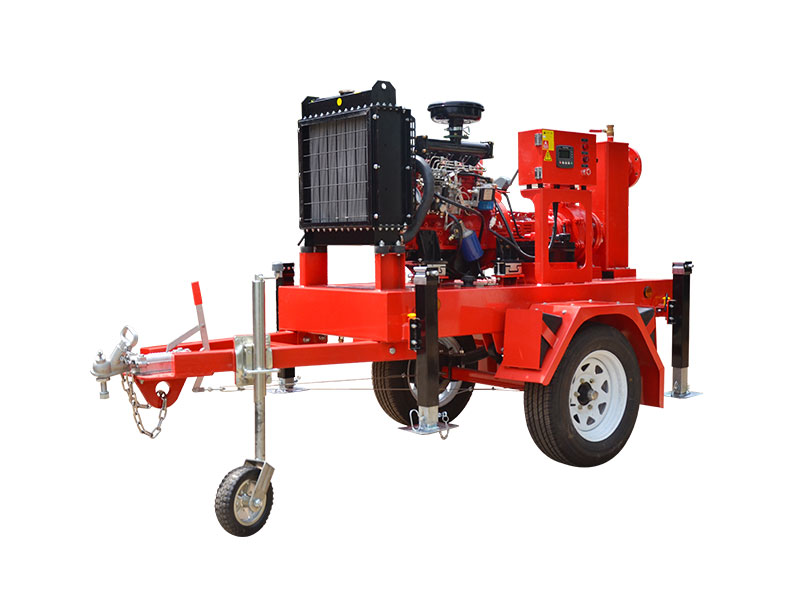 Trailer Mounted Fire Pump
Flow: 22-8000m³/h
Head: 1-70m
Speed: 1400 r/mim
Frequency: 50 Hz or 60 Hz
If you want to get more product information please contact us!
Introduction
Structure
Features
Technical Data
The trailer mounted fire pump is designed by the unique design of the pump body and the impeller flow channel using the principle of axial return and external mixing. It can be like a general self-priming clean water pump without installing a bottom valve and irrigation water, and can also suck and discharge large particles. Water bodies with solid impurities and long fibrous substances can be widely used in drought relief, flood control and water logging drainage, municipal sewage discharge, emergency drainage, etc.

The emergency mobile pump truck will be your reliable assistant for industrial emergency response. Regardless of the emergency situation, it can provide efficient and dependable water pumping capabilities, ensuring the safety of your industrial facilities and personnel. Choose the emergency rescue mobile pump truck to safeguard your industrial emergency response.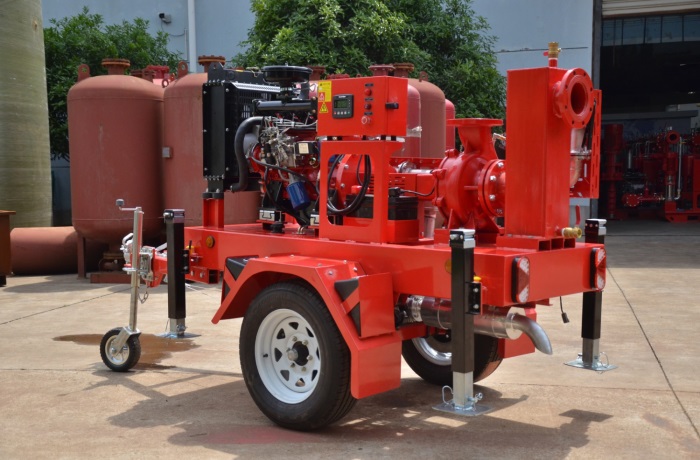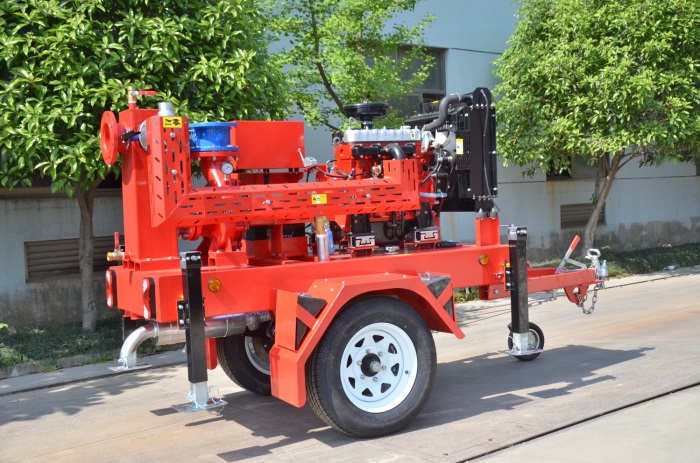 1.High Mobility: The emergency mobile pump truck boasts excellent maneuverability, allowing it to swiftly reach emergency sites. Whether in factories, mines, construction sites, or other industrial locations, it can respond quickly and provide the necessary water pumping capabilities for emergency rescue operations.
2.Multi-functional Applications: This mobile pump truck is versatile and can address a wide range of emergency situations. It can rapidly drain water, pump fluids, and supply firefighting water sources, ensuring emergency water supply for industrial facilities and safeguarding equipment operations and personnel safety.
3.High-Performance Pumping: Equipped with high-performance pumps, the emergency rescue mobile pump truck possesses formidable pumping capacity and water pressure output. Whether dealing with floods, drought relief, or drainage operations, it can efficiently and reliably fulfill tasks.
4.Independent Power System: The mobile pump truck is equipped with an independent power system, allowing it to operate normally even in the event of external power failures or blackouts. This ensures stable power supply for emergency rescue operations, enabling the pump truck to work continuously for extended periods.
5.High Reliability and Safety: The emergency mobile pump truck undergoes rigorous testing and validation, demonstrating excellent reliability and safety. Constructed with premium materials and advanced technologies, it can operate reliably in harsh environments, ensuring the smooth completion of emergency tasks.
Applications
1. There are no fixed pumping stations and areas without power supply;
2. Assault flood control and drainage;
3. drought relief;
4. Agricultural irrigation, aquaculture;
5. Various occasions for temporary pumping;
6. Cofferdam pumping;
7. Industrial and municipal drainage.
Name
Trailer mobile drainage pump truck
Brand
BETTER
Type
weather-proof and trailer type
Model
BDSP-10
Max Capacity
500m³/h
Max Suction Head
5m
Inlet/Outlet
DN200
Move mode
Two-wheel high-speed trailer with electronic braking system
Driving speed
Speed limit 80km/h
Engine Power
70KW
Engine Speed
1500r/min
Fuel Tank Capacity
200L
Suction Pipe
6m
Discarge Pipe
20m
Rainproof Enclosure
2mm Galvanized steel plate with polyester powder coated
InquiryPlease Feel free to give your inquiry in the form below. We will reply you in 8 hours.